Latest News: Bongaree Water Tower artwork complete!
Following extensive community consultation, the super-sized artwork has now been completed on Bongaree Water Tower, Bribie Island.
The artwork was chosen by the residents and business operators who live and work near the tower, and reflects Bribie Island's marine life and waterways.
This is the second Bribie Island Water Tower we've transformed.
We have recently installed another artwork on the nearby Woorim Water Tower.
Watch the great time-lapse video of the installation of Woorim's winning design below.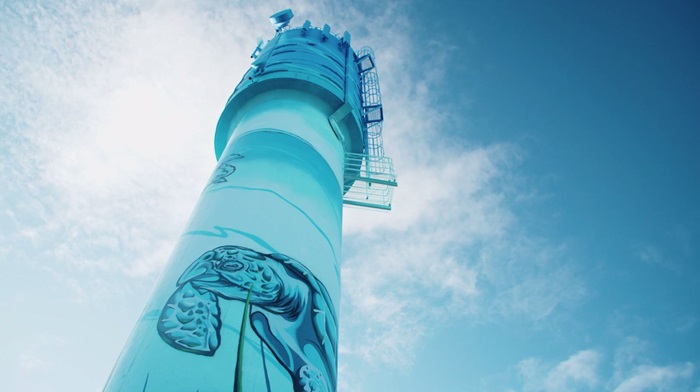 About the winning designs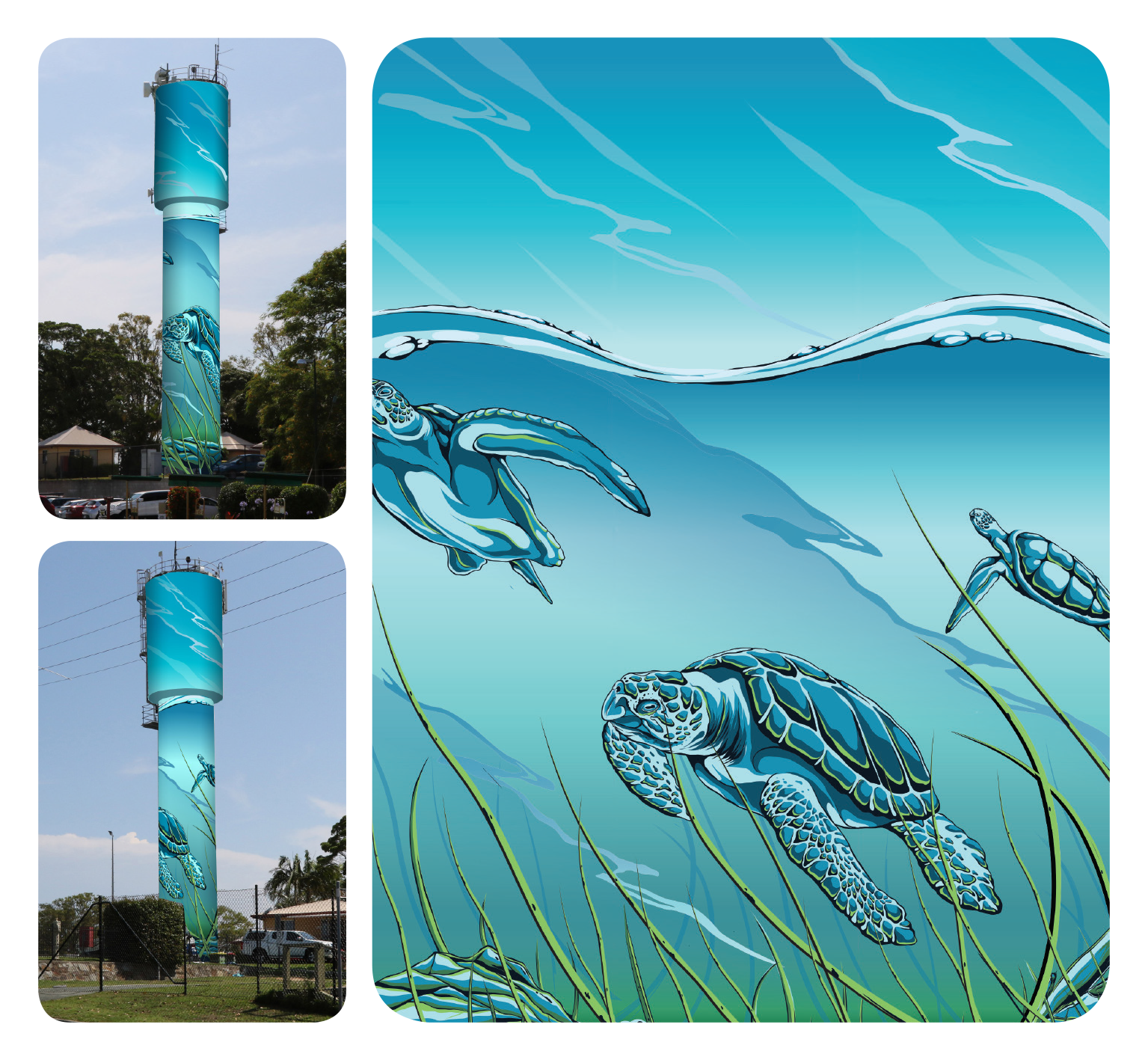 Bongaree winning design
'Another world's paradise'
Drawing inspiration from Bribie Island's marine life and waterways, this artwork depicts the thriving aquatic life that is unique to Bribie Island.

The native turtles that return to Bribie Island each year, the lush seagrass beds beyond its shore and the sunrays shining through the pristine waters, provide a glimpse into the paradise that hides just below the water's surface.

The artwork aims to bring awareness to the region's delicate ecosystem and the important balance of humans living in harmony with nature.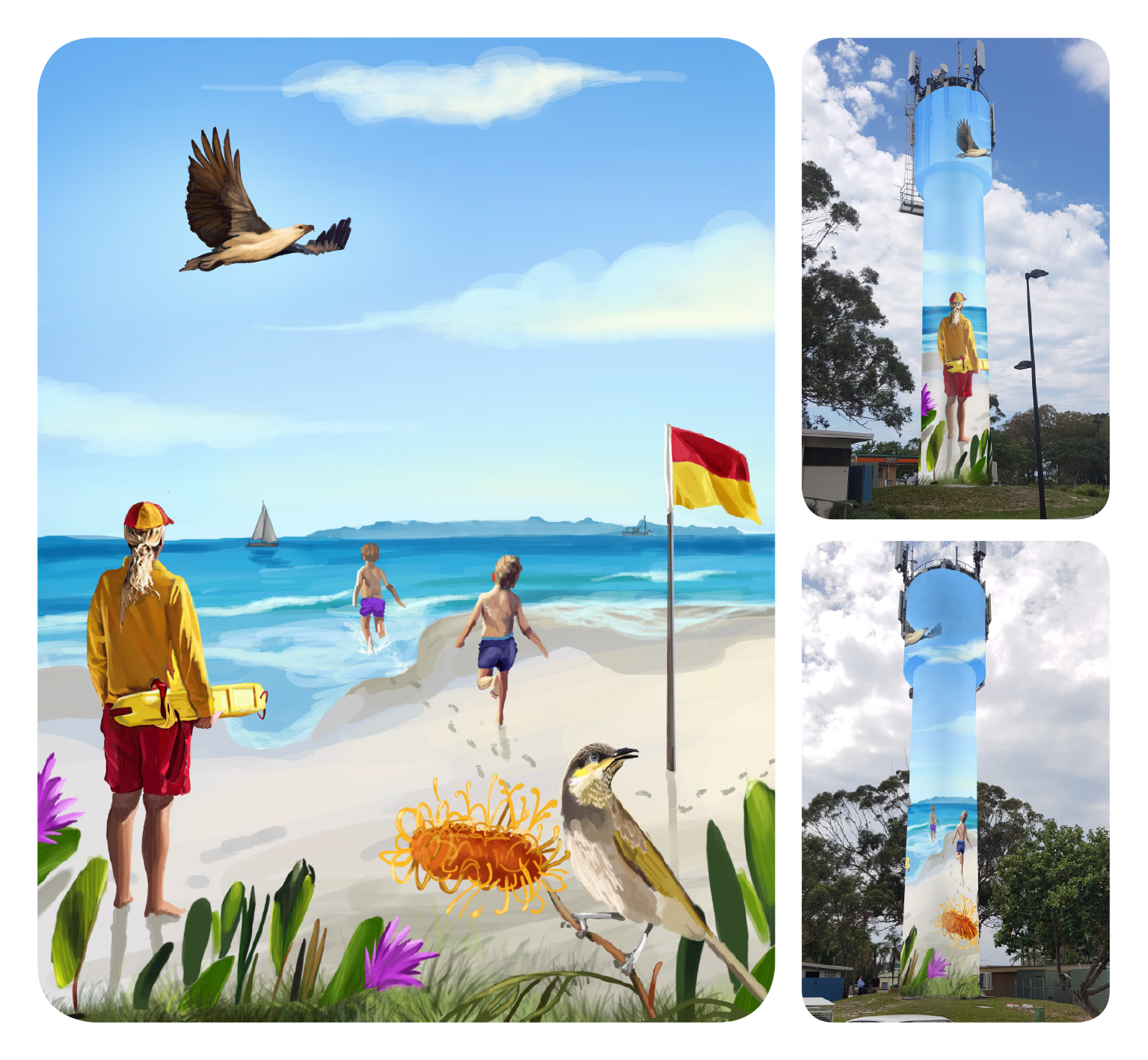 Woorim winning design
'Woorim Beach'
This artwork reflects Bribie Island's beach culture and the families that have chosen Bribie Island as their home.

The young children playfully running to the shore under the careful watch of a lifesaver capture what may be a typical afternoon at Woorim beach.

The Grevillia and Honeyeater in the foreground reflect the flora and fauna of the local area.
Watch the artwork being installed
About this project
We are commissioning an artwork for both Bongaree and Woorim Water Towers based on a design brief to be created by the people who live, work and play alongside the towers.
The project forms part of our Community Artwork Program which works to reduce graffiti and create high profile community artworks on some of our most prominent sites with the help of local residents.
By working hand in hand with our communities, we have successfully reduced the rate of graffiti on five large water towers and reservoirs.
Our public artworks are designed with input from residents and businesses, to ensure each site celebrates and reflects their local community.
The artworks are installed by a professional public art agency that also specialises in community engagement and youth mentoring.
Timeline
Step 1
29 Aug - 10 Sept 2017
Community survey to determine the style, content and theme of the designs.
Step 2
Sept 2017 - Jan 2018
Unitywater appoints a public art agency and commissions two designs for each tower to meet the community-driven design brief.
Step 3
Feb 2018
Community vote to select one artwork to be painted on each tower.
Step 4
March - June 2018
Installation of both artworks.